Subway Surfers review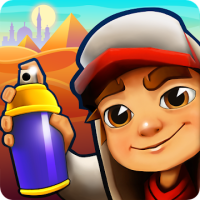 Published & copyrighted by SYBO Games
All trademarks belong to their respective owners
The game Subway Surfers is an endless running game where the player has to avoid oncoming trains on the subway tracks while collecting coins, hoverboards, and power-ups. It is available on iOS and Android and is currently ranked with a 4.2 rating on the App Store and 4.6 on Google Play.
Gameplay
The player starts out with 3 lives, and as they run down the track, they must use their finger to tap obstacles in their way, such as oncoming trains and gaps in the track, to avoid them. They can also collect coins and power-ups, which help them run faster and become invincible. Players can also utilize power-ups to help them get more coins and run faster. Some power-ups include the magnet, which attracts coins, and the shoes, which give the player a boost of speed. When the player hits a train or another obstacle, they will lose a life. They will also lose a life if they go too far off of the track.
Graphics
The graphics of the game are very simple and cartoonish. The colors are bright, and the characters, trains, and obstacles are all animated.
Replayability
The game offers players the ability to purchase power-ups and coins with in-app purchases. As the player progresses, they will be able to unlock new characters, trains, and power-ups, which will make the game more enjoyable.
Conclusion
Subway Surfers is a fun and addicting game that is currently available for free on iOS and Android. The game includes many power-ups and characters that can be unlocked and is very simple and colorful. However, the game has many flaws, such as crashing, which can cause the player to lose all of their progress, and in-app purchases, which can cause the player to spend a lot of money.